History
Cook's Buffet, Cafe, Bakery in DeLand is steeped with family heritage and tradition. In 1959, Bob and Willa Cook founded the original Holiday House Restaurant serving prime steaks, tossed salads and gigantic Idaho baked potatoes. Early on, Bob developed a special buffet style serving hand carved aged beef, fresh turkey, lamb and ham. To accompany the meat choices were freshly prepared vegetables, salads and homemade desserts. Soon there were 14 Holiday House Restaurants throughout Central Florida. They probably never dreamed of how this simple restaurant in an old house, where the family called home, living upstairs during the 1960's would grow into a family tradition and a local chain of restaurants. In 1986, a kitchen fire closed the restaurant for several months allowing Bob to fulfil his dream to completely remodel the old house, including a state of the art kitchen. In 1990, Bob sold the business to his former wife, but retained ownership of the building and property.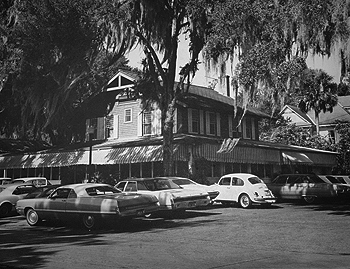 In the meantime, his son Michael Cook, who grew up and worked in the family business, set out on his own. Michael opened the Sandwich Stop restaurant in the end bay of a gas station in 1983. After a few years, he moved into the Main Street Center, downtown DeLand, and changed the name to Cook's Cafe. He began in only one small unit, but about 5 years later, he expanded to two units. Through renovation, a cozy, yet open atmosphere has been created.
Then in 2007, the Coffee Bistro 101 was opened in the front unit across from the Cafe. A totally different menu, specialty beverages and more of a Coffee House, customers come in for a more relaxed ambiance, enjoying their coffee, studying, working or just surfing the web. Outdoor seating is also a pleasant dining experience.
After his fathers passing in 2002, Michael inherited the property and building which housed the Original Holiday House. In March of 2010, Willa and Larry Cook informed Michael that they would not be renewing their lease and would be vacating the building at the end of that August. This left Michael a major decision of what to do with a 100 year old building. After much thought, prayers and family discussions, it was decided to completely remodel the historic building and reopen it as a restaurant. After several months of remodeling the exterior, interior and kitchen, Cook's Buffet, Cafe, & Bakery opened in April 2011. The task at hand was simple, to serve good, hardy comfort food prepared well with the best and freshest ingredients available. With what he learned from his father and his success in running his business of almost 30 years, Michael was ready to embrace history once again.
Michael and his wife Star have continued with the family tradition and have groomed their son Michael Cook Jr. to become a part of the management team at Cook's Buffet. Michael Jr. has the same passion and enthusiasm for food as his father does and grandfather did. Star, Michael Sr's wife, in conjunction with her full time job of 26 years at Florida Hospital DeLand, is also active in the day to day operation of the business. Channing Gerber, their daughter, also supports the family business, while teaching 3rd grade in Stuart, Florida. For over fifty years, there has been a member of the Cook family, cooking in the kitchen and the tradition lives on.
The restaurant still retains its original flavor, but has been brought into the 21st century with the same great taste, but with a modern twist. Michael has brought many of his successful, award winning menu items from Cook's Cafe Downtown, like his sandwiches, soups and bakery offerings along with one of the largest salad bars around. The buffet's offerings stay with tradition and new favorites, and makes for a new experience with every visit. Every item that is used in their restaurant is of the highest quality. They use all fresh vegetables that are in season. The choicest meats and seafood are hand selected and are prepared fresh daily. High standards in food quality are a top priority with the Cook family. You can even take a behind the scenes tour of the kitchen if you like, business permitting of course. Cook's has become a favorite place for celebrations and parties of all kinds. The former living quarters upstairs where the family lived during the sixties are now the corporate offices and banquet area.
Future plans include reopening the banquet room upstairs, however, they can accommodate up to sixty people downstairs now. The banquet room also houses part of Michael and Star's ever growing cookbook collection that consists of over twelve hundred volumes. The Carriage House at the rear of the restaurant will be remodeled with a new community room for groups and clubs, and a new display kitchen will be set up for culinary schools and local celebrity chefs for demonstration cooking. Michael is also planning to bring back those choice, prime aged steaks and gigantic Idaho baked potatoes to the menu in the near future.
Cook's customer base has grown to include all of central Florida, just like it did in the beginning. History repeats itself, and it seems once again, the popularity is blossoming. The Cook family invites you to join them for a delightful southern tradition, comfort food prepared well. Michael's philosophy is simple. "Food that is time tested and taste perfected" and our motto remain's "Cook's, Where Memories are Made!"
Come visit any or all of our three restaurants and become part of our restaurant family.